Council continues support for 'essential' flood management project
The use of natural flood management measures in Lewes district have been applauded by Cabinet councillors at Lewes District Council today (December 8).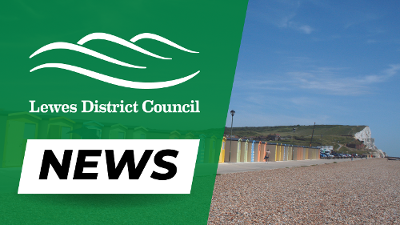 The meeting heard that the council and working partners are 'leading the way' in the use of natural flood management measures to mitigate the risk of flooding in vulnerable locations within the Ouse and Eastern Adur catchment.
Natural flood management is the use of natural resources and processes to make space for water and consequently reduce the risk of flooding. To achieve this, the council entered a partnership with the Sussex Flow Initiative and Ouse & Adur Rivers Trust to deliver a range of initiatives, such as building leaky dams and ponds, planting shrubs and trees, reconnecting rivers with floodplain and advising landowners.
Cabinet agreed to continue to support the natural flood management programme in 2023/24 and beyond.
Councillor Matthew Bird (pictured), Cabinet Member for Sustainability, said:
"There is no doubt at all that Lewes District Council, with our partners, is leading the way in the use of nature-based solutions to achieve climate resilience.
"We have seen just how important natural flood management measures are during the recent floods across the District. With increasing and more intense rainfall we will need to expand these kinds of measures considerably to minimize risk to homes, businesses, infrastructure and farmland."
In addition to reducing flood risk through natural flood management, the strategic aims of the partnerships are to improve drought and climate resilience, work with communities to increase their resilience to floods, storms and drought, enhance carbon capture and removal, provide corridors for nature recovery and improvements in biodiversity and the creation of natural mechanisms for improving water quality.
First published: 12 December 2022