Council introduces new electric vehicle charging points
Eastbourne Borough Council is installing public charging points for 18 electric vehicle bays in three car parks across the town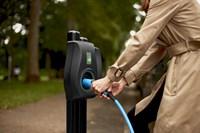 The council has signed a 15-year agreement with Connected Kerb, a leading UK electric vehicle infrastructure contractor, to provide and set up the charging points, as well as replace existing broken rapid charging units.
The charging points will be installed in car parks at Hyde Gardens, Redoubt and Devonshire Park - all of which are owned by Eastbourne Borough Council.
Councillor Colin Swansborough, Cabinet Member for Climate Change, said: "The move to electric vehicles, away from the greenhouse gas emissions created by petrol and diesel cars, is critical to achieving our carbon net zero ambition.
"This agreement is a great step forward towards achieving that goal and importantly, providing more public places where drivers can charge their electric vehicles in Eastbourne."
Chris Pateman-Jones, CEO of Connected Kerb, said: "We are delighted to be working with Eastbourne Borough Council on this vitally important climate change project. Ensuring that areas such as Eastbourne have long-lasting, future-proofed EV charging infrastructure is essential to the UK's aspirations to move to more sustainable forms of transport and meet its net zero targets."
Installation work is starting in April and completion is expected in June.
Published on March 6, 2023.