Former Mayor raises over £21,500 for charities
The former Mayor of Eastbourne has presented two local charities with £10,788 each, amassed from a year of fundraising events during his last term in office.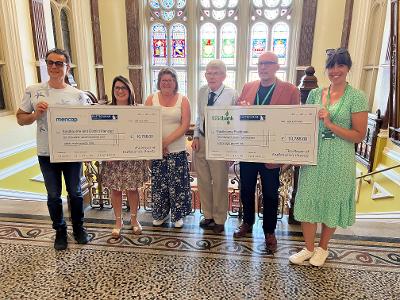 Councillor Pat Rodohan, who recently handed over to new Mayor Candy Vaughan, donated the money to Eastbourne Mencap, which supports local adults with learning disabilities, and Eastbourne Foodbank, a charity that provides emergency food for people in crisis.
Councillor Rodohan: "These are two fantastic charities and I am delighted to give them both a financial boost to continue their important work helping local people.
"Thank you to all those who supported my fundraising events, it was a pleasure to see so many of you there."
The fundraising events included the Mayor's Charity Ball, quiz nights, art exhibitions and a cinema night.
Howard Wardle, CEO at Eastbourne Foodbank, said: "We would like to say a huge thank you to Cllr Rodohan for selecting us as his charity of the year, in what turned out to be our busiest year to date.
"This money raised by the Mayor's Charity Committee is much-needed and much-appreciated. One of our two foodbank vans urgently needs replacing and the money raised will help towards the cost of a new vehicle. The vans are crucial to our operation. Without them, we would not be able to transport the donated food out to seven foodbank satellites."
Natalie Harding, CEO of Eastbourne Mencap, added: "We would like to thank the former Mayor and all the Fundraising Committee for supporting us, in what has been a very busy and enjoyable year.
"We have had the pleasure of working with Eastbourne Foodbank and meeting lots of new people who attended the events.
"Some of the money we raised has already been used in our new social events company for adults with a learning disability called 'Inspire Events', for which our launch party was a great success, and our next event already looks to be a sell-out.
"Eastbourne & District Mencap would like to wish the new Mayor, Candy Vaughan, the very best of luck and hope that everyone in Eastbourne will get behind her this year and support her chosen charities."
Published on June 21, 2023.
More ways to receive our news
Keep me posted. Sign up to receive news and alerts from Eastbourne council by email
Our Social media