Town Hall clock falls silent for restoration work
A programme of essential repairs and refurbishment to the Eastbourne Town Hall clock tower begins this week.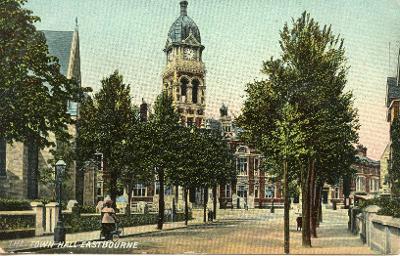 A contractor with experience in this type of specialist work will carry out stone mason repairs, brickwork repointing and replacement, as well as repairs and redecorations to the clockface.
To protect the people working on the scaffolding around the clock tower, the clock will fall silent throughout the restoration, which is expected to take about six months.
Councillor Colin Swansborough, Cabinet Member for Heritage Assets, said: "The chimes of the Town Hall clock are part of everyday life for people living and working locally, so I will miss them.
"However, we are custodians of this great building and it's our duty to ensure it is maintained for generations of residents, long into the future.
"This is highly specialised work in very close proximity to the clock, so turning the chimes off is unavoidable."
The Town Hall is a Grade II listed building designed by architect W.Tadman-Foulkes in 1880.
The site on which the Town Hall was built was known as Stocks Bank, a nod to the stocks that once stood there.
Local builder James Peerless was chosen for the build, with construction starting in 1884 at the laying of the foundation stone by Lord Edward Cavendish. Opening in 1886, the Town Hall remained without a clock until 1892 when Messrs. Gillett and Johnston were tasked with installing a clock in the 130 ft high clock tower.
The clock has gone silent several times as a result of repairs and restoration, including in 1919, 1934 and 1948.
Published on June 20, 2023.
More ways to receive our news
Keep me posted. Sign up to receive news and alerts from Eastbourne council by email
Our Social media