Businesses come together for launch of new night-time safety scheme
Owners of pubs, cafes, hotels and other alcohol-licensed venues gathered for the launch of a new accreditation scheme that promotes night-time safety and best practices in premises across Eastbourne.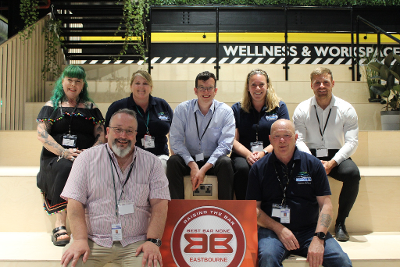 Best Bar None Eastbourne, which is supported by the Home Office and the drinks industry, was launched at Foundry in The Beacon on Wednesday (June 14).
Business owners heard from members of the Best Bar None Eastbourne partnership including Eastbourne Business Improvement District (BID); Sussex Police, East Sussex Fire and Rescue and Trading Standards.
Among the businesses that attended and have signed up to the scheme include The Belgian Café, The Stage Door, Dew Drop Inn, The Eagle, Rainbow Inn, Printer's Playhouse, Crown and Anchor, The Hart, Ninkaci, Foundry, The Crown and Alexandra Arms.
Councillor Margaret Bannister, Deputy Leader and Cabinet Member for Tourism, Leisure, Accessibility and Community Safety, said: "We've had a great uptake by businesses already for this excellent scheme that will support our thriving night-time economy.
"Best Bar None has been adopted by 75 towns and cities across the UK since it was started in 2003 and has proven to cut alcohol-related crime as well as helping to raise standards at licensed premises.
"If you have an Eastbourne business with an alcohol licence and haven't yet registered your interest to take part in the scheme, I encourage you to do this now."
This can be done by completing a short form on the Eastbourne Borough Council website at www.lewes-eastbourne.gov.uk/BestBarNone
The Best Bar None Eastbourne partnership will carry out assessments of venues over the summer ahead of launching Best Bar None Eastbourne to customers later in the year.
From then, people will be able to spot an accredited venue by seeing a certificate or window sticker that has the Best Bar None logo.
All accredited venues will also be listed on the Best Bar None website www.bestbarnone.com
Published on June 15, 2023.
More ways to receive our news
Keep me posted. Sign up to receive news and alerts from Eastbourne council by email
Our Social media