New modular homes welcome first council tenants
A new council development of high-quality modular homes in Fort Lane has welcomed its first tenants.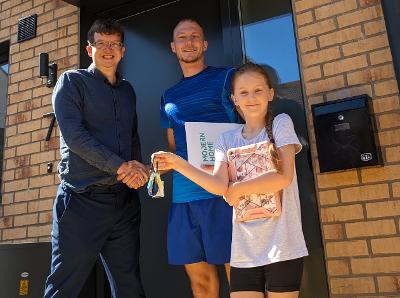 Local families are moving into five terraced and two semi-detached homes, each with their own garden and parking.
The Fort Lane housing scheme is Eastbourne Borough Council's second modular housing development in the town, with the first opening in Langney Road and now providing new homes for 12 families.
Councillor Stephen Holt, Leader of Eastbourne Borough Council, met some of the new Fort Lane residents this week. He said: "It was wonderful to meet some of the new tenants and hear how delighted they are with their new homes.
"Being bordered by the sea, the South Downs National Park and Pevensey Levels, we have limited opportunities in Eastbourne to build the affordable properties that local people need most. However, we have successfully transformed this site from several disused industrial units into seven superb homes."
The scheme was delivered through a housing framework that was established between Lewes District Council and modular homes contractor, Boutique Modern, and is accessible to other local authorities across East and West Sussex.
Published on August 22, 2023.
More ways to receive our news
Keep me posted. Sign up to receive news and alerts from Eastbourne council by email
Our Social media