'Stunning' new council homes opened in town centre
An Eastbourne Borough Council development of 19 affordable new homes in the town centre was officially opened this week.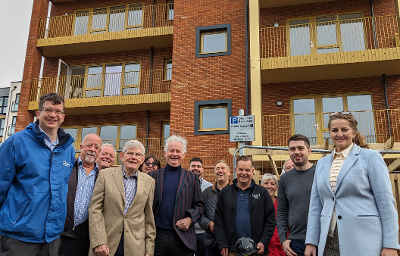 'The Glenn' in Southfields Road will soon welcome new tenants and includes 17 two-bedroom and two one-bedroom properties, with three fully accessible ground floor flats, each with their own garden.
The site is a former council car park that was once home to Eastbourne School for Girls, known in 1935 as The Glen.
A delegation of councillors and partners (pictured) met to officially open the housing scheme.
Councillor Stephen Holt, Leader of Eastbourne Borough Council, said:
"This is an incredibly proud moment for us all.
"It's quite an achievement for the council to have developed stunning new affordable housing in the centre of the town, at a time when so few councils are building new homes.
"The flats are simply superb and there is no doubt our tenants will be hugely excited about moving in and enjoying town centre life in such high-quality properties."
The council team has put a travel plan in place that includes a 12-month bus pass, a £100 bicycle voucher to spend against a new bike and membership to a new Car Club.
Councillor Peter Diplock, Cabinet Member for Housing, said:
"The whole project and design team has done tremendous job of building and finishing these fantastic new homes. We are working hard to deliver more of these brownfield site projects, but government need to release funds to get more of them off the ground.
"Built with a Fabric First Approach, this development includes the council's first green roof, solar panels that are part of a Solshare system enabling each flat to receive enough energy each day to run all 'stand-by' appliances for free - a first for Council housing in the country - air source heat pump and a space for every resident to use a large bike store."
Published on October 30, 2023.
More ways to receive our news
Keep me posted. Sign up to receive news and alerts from Eastbourne council by email
Our Social media