Water Champion slams Southern Water for 'tsunami of human waste'
With Southern Water's history of sewage discharges never far from the minds of local people, concerned residents from Eastbourne and surrounding towns attended a Full Council meeting to call for cleaner seas and waterways.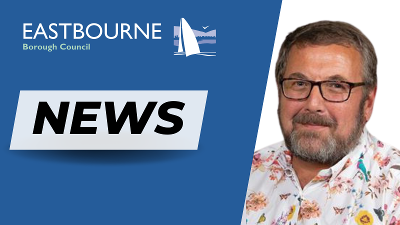 Southern Water was responsible for 16,888 sewage spills in 2022. In Eastbourne during last year alone, sewage was discharged into the sea by Southern Water for a staggering 434 hours.
The health benefits of open water swimming are well known, but the many swimming groups along the Sussex coast now have to check the water quality before they enter the water.
Continual calls for Southern Water to do more to improve the infrastructure to support cleaner water have now included asking Eastbourne Borough Council to propose a motion at Full Council demanding that Southern Water start the work needed to improve water quality.
The motion was proposed by Councillor Jim Murray, the council's water champion. He said: "It is time to hold Southern Water accountable for this tsunami of human waste polluting our sea water.
"This volume of waste and the frequency of discharges show that the discharges have become routine, rather than an emergency response to exceptional conditions.
"We must stop allowing them to profit at our expense and ensure that they improve the infrastructure to stop this happening in the future."
The motion was passed. Accordingly, the council:
1. Calls on the government and Southern Water to accelerate the capital programme to stop the risks of untreated sewage discharges into our rivers and seas and to stop this assault on nature, our economy and our basic human rights.
2. Calls on the government and Southern Water to enable the widespread deployment of nature-based solutions for flood mitigation and improved water quality.
3. Calls on the government:
a. To ensure a better resourced Environment Agency in its role as regulator, in order that enforcement and monitoring is improved.
b. To stop enforcing unrealistic housing numbers on local councils and force Southern Water to meet the costs of the required disposal of water from new homes once it is at street level, to improve the existing sewers to make them fit for purpose.
c. To reform the Regulated Asset Base model, and significantly reduce the weighted, adjusted cost of capital, to stop rate paying households underpinning company debts.
d. To make CEOs of water companies personally responsible for excessive sewage discharges.
e. Appoint a minister for coastal services.
4. Asks that the chief executive and leader of the council write to relevant government ministers and Southern Water to call for these changes.
Councillor Murray added: "We will keep working together with our partners and I look forward to enabling many changes that will support our local swimming groups and all others who take part in activities in the sea and rivers."
Published on November 20, 2023.
More ways to receive our news
Keep me posted. Sign up to receive news and alerts from Eastbourne council by email
Our Social media