Harvest Festival netted more than 320kg of foodbank donations
A Civic Harvest Festival Celebration amassed a massive 326.5kg in food donations for Eastbourne Foodbank.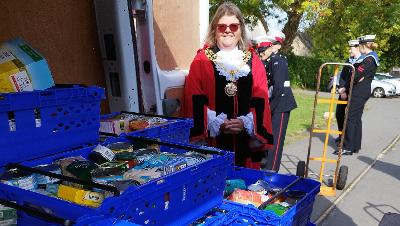 The Mayor of Eastbourne was among civic guests who attended the event at St Mary's Church in Hampden Park on Sunday, October 1.
The Mayor, Councillor Candy Vaughan, said: "Thank you to everyone who contributed, it was a phenomenal response for the foodbank and the Sea Cadets did a great job helping to load all the donations into the van.
"I am also grateful that the event raised more than £195 for my chosen charities of the year, A Band of Brothers and The Old Bank - Wellbeing Trust."
The Mayor's Chaplain, Reverend Danny Pegg, added: "Harvest is a time when we give thanks to God for what we have and share what we can. We are absolutely thrilled in our parish to see how generous schools, businesses and individuals have been to help out their fellow neighbour in need. This is the kind of community work we love to do!"
Following the Civic Harvest Festival Celebration, a Bring and Share Lunch was held in the church hall which provided an opportunity for people to meet and connect.
Published on October 11, 2023.
More ways to receive our news
Keep me posted. Sign up to receive news and alerts from Eastbourne council by email
Our Social media